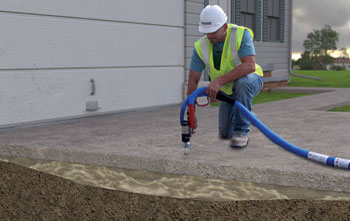 Complete Basement Systems of Colorado is excited to announce the addition of the state of the art PolyLEVEL system for structural repairs in the greater Denver area. The PolyLEVEL System is a patented product from Foundation Supportworks which uses high density polyurethane to raise slabs and correct unevenness.
The process is simple, quick and clean. A small hole only 5/8" is drilled in the concrete and the injection port is inserted. The PolyLEVEL 2 part formula is injected beneath the slab where it reacts to form a stable foam filling any voids to regain stabilization. Once filled, the holes are grouted and sealed. Within 15 minutes a car can be driven over the area unlike the several days cure time for mudjacking.
This PolyLEVEL solution is economically friendly, lightweight and waterproof allowing the repairs to hold up over time.
Complete Basement Systems is a dealer in the Foundation Supportworks network of the most experienced and knowledgeable foundation repair contractors in North America.